The Company | History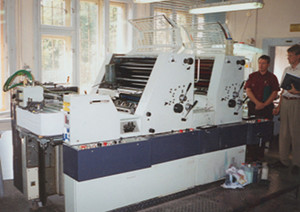 UnitedPress Printing house is started back in 1992 by Herman Jakuska, at that time it was called Indrikis and was one of first private owned printing houses after fall of Soviet Union.
One of first 4 color presses in Latvia was installed - Heidelberg GTO.
Due to growth printing house moves into larger facility outside Riga in Olaine, new 5 color press is installed.
In 2003 printing house starts cooperation with print broker Concept Media - owned by Artur Broks.
By end of 2004 Printing house moves back to Riga - Vestienas street 6, Komori Lithrone 28 is installed.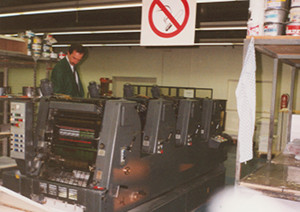 In 2007 Artur Broks and Herman Jakuska decides to go further together, and printing company changes share holders and name to UnitedPress.
Printing house expands in Scandinavian market, new machines are installed - second Komori Lithrone 28 and several finishing machines.
In 2008 UnitedPress buys realestate company Razosanas Nekustamie Ipasumi SIA, and becomes owner of Vestienas str. 6
UnitedPress Printing house buys most of machines from web printing company Europrint in Estonia and our first web heatset press is installed.
Over last years UnitedPress has become a modern printing company within magasine production for Baltic and Scandinavian markets.
In 2010 UnitedPress buys several bancrupt printing companys in Norway - Havel Trykkeri in Bergen and Stens Trykkeri in Dilling.
Let's bring your ideas to life, our sales staff is here to help You in English, Swedish, Norwegian, Russian or German!