The Company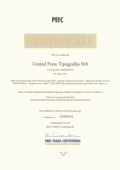 PDF, ~1.5MB
PEFC Chain of Custody (CoC) is a certificate indicating compliance with monitoring and product production process requirements, which is issued to businesses that comply with the strict requirements established by PEFC.
A business that is issued a PEFC certificate helps to support the environmentally friendly, socially just and economically viable management of the world's forests through its activities.
United Press Tipografija SIA, has been given certificate no: 14502354.
For details, please contact our sales department