Technology | Postrepress
Heidelberg Stahl KD 78KL folding machine

Heidelberg Stahlfolder TI52-6.4.X folding machine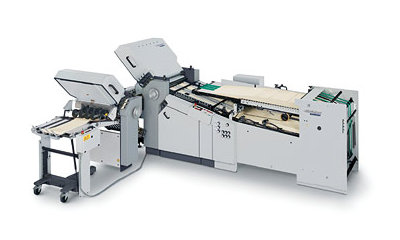 Combined folding machine Heidelberg Stahlfolder TI52-6.4.X
Format (Max): 500x1000mm
Format (Min): 145x210mm
This is a folding machine with "round pile" feeding system; this involves the sheets being placed onto rollers, which takes it around the end of the machine and then each sheet is individually pulled into the machine by an air-controlled suction-wheel. The sheets of paper are separated by help of blowing air between.
Stahl Ti52/4-52/4 Proline Tremat, folding machine
Muller Martini 235 saddle stitcher
Heidelberg Stitchmaster 300 saddle stitcher

Muller Martini 894 perfect binder
Theisen & Bonitz Sprint 303 collator and stitcher
Solarco Calendar 55 wire-o binder
Heidelberg Cylinder Automat die cutting
Morgan FSN numbering and perforation machine
Foliant 720HPS laminating machine
We have lot of small equipment, used in a book bindery.
Please contact sales department for more details about our machines!